Do Smart Sprinkler Controllers Save Water?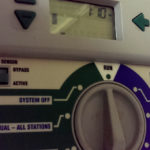 A recent article in the San Jose Mercury News covered the trend towards smart sprinkler controls. Smart sprinkler controllers promise to reduce water use for most users by over 30%.
Now the definition of a smart controller varies. Options stretch from the addition of a rain sensor, with many devices offering WiFi connectivity that allows them to access online weather information.
The Mercury News article also made an interesting observation: Indeed, when they first started rolling out, some of the devices actually resulted in residents increasing their water use, noted Peter Brostrom, water use efficiency program manager at the California Department of Water Resources. Those residents tended to be the ones who already were doing a good job of conserving water, he said. "If you are already very conscientious with your water use, a smart controller would probably not save you water," said Brostrom. Instead, he added, they're most effective "for people who don't touch them and don't look at them, who run the same schedule throughout the year."
The bottom line is that if you are already observing water-saving practices by adjusting your irrigation controller as the weather changes, you're unlikely to save water by changing out your controller. I've heard stories about a similar situation with the Nest thermostat.
Water savings are possible but, since the sprinklers and pipes-in-the-ground don't change, much of the water waste continues even with a smart controller. Real savings require re-engineering the entire irrigation (or air-conditioning) system, pipes, sprinklers and all. Until that happens, water saving claims should be considered with some skepticism.